"Simultaneous interpreting between German and English"
Interpreting means more to me than just translating language. It is the art of communication. And it is a matter of trust. My name is Claudia Schaffert and I transfer knowledge from one culture to another. Fast. Accurate. And competent.
Interpreting is the art of communication
"I listen to what you say but I hear what you mean" says Hercule Poirot in Agatha Christie's crime stories. And this is what it is all about. Nuances. Cultural differences. Mimic and gestures. Dialects. Intentions. Technical details. Rhetorical bonmots. Intonation. Recognition of the unspoken. Expertise in the subject areas. Interpreting is the mediation of complex contents from one cultural area to another. Swiftly and directly. Comprehensible and precise. From someone you trust.
Simultaneous interpreting is an art in itself. Speakers can use their mother tongue and do not have to concentrate on a foreign language, while the team of interpreters keeps their listeners constantly informed. Without losing time.
As a communications expert, I know how to express myself, so that my listeners understand what the speaker is saying, whilst sounding authentic in the respective language. This way, I underline the professionalism and competence of your speakers.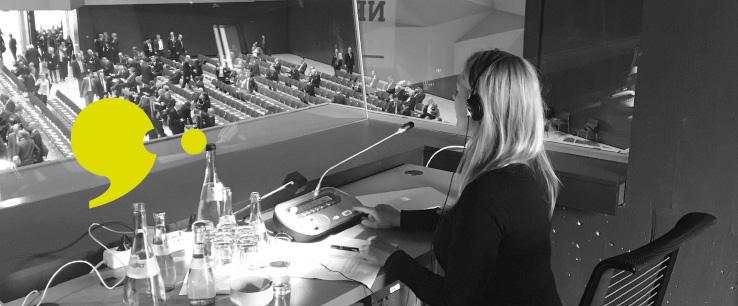 Language, technology, architecture. My passions.
I am a qualified conference interpreter for the languages German and English, and hold a technical degree in architecture. I specialise in technical subjects. With over 10 years of experience as an interpreter, I am familiar with the fields of architecture, automotive, construction, bridge design, laser technology, mechanical engineering and environmental technology.


Continuous development means respect for the work of others
The speeches held at your event are valuable and of great benefit to the audience. Hours of hard work have gone into the preparation of the presentations to achieve the desired effect. This makes it all the more important that nothing is lost in the transmission to another language. To do justice to this, I am keeping my linguistic skills and my tools in good shape for you. I spend a lot of time in the UK, where I witness the continuous change of language and regularly attend training seminars for professional interpreters.


Professional associations pool skills and expertise
My membership in professional associations also serves as a seal of quality for the services I offer:

- Since 2011 Institute of Translation and Interpreting (ITI)
» see my profile

- Since 2015 Verband der Konferenzdolmetscher (VKD)
» see my profile
Much more than words
In the run-up to the event, I will support you in planning. I will advise you on which mode of interpreting is best suited for your purposes, what to consider and how we can work together to achieve the desired results at the best price-performance ratio. For large conferences comprising several parallel events, I will find the best conference interpreters for you and put together a team that is unbeatable in terms of event format, language combination and subject area. And to avoid any surprises later on, I will provide you with the complete service at a fixed price. During your conference, you can sit back and relax, and enjoy the fruits of successful communication.